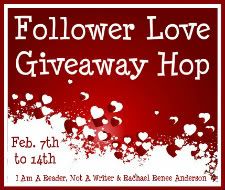 Enter to win a grab bag of bookish things Feb. 7th-Feb. 14th! Open to US entries only.
To enter our Giveaway, become a GFC follower and leave your email address in the Comments along with your answer to these questions:
Who is one character you have fallen in love with and in what book did you read about him/her?
Good Luck!
Click the button to return to the linky on
I am a Reader Not a Writer
.